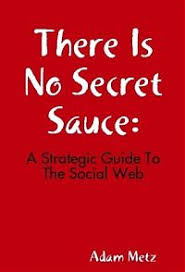 by Adam Metz.
Great Quote: "social media these days is a lot like dentistry in the early 20th Century – it's a hell of a lot better than it used to be but it's far from painless."    – Adam Metz –
Suggestion: Read "Groundswell" first (Review on this blog 8/17/09).  Groundswell does a great job of painting the "big picture and organizing key social media concepts.
Next: read There Is No Secret Sauce: A Strategic Guide to the Social Web.  Adam paints a more detailed, in-the-trenches, point of view on how to apply Social Media to marketing.  The majority of his focus is on small business and consumer marketing, but most of what he has to say is generally applicable and very useful.  The key thing is that Adam bridges from the theoretical down to the practical implementation.  The book includes sections on:
Ten Super-Stupid Social Media Mistakes (and lessons learned)
How to present the idea for Social Media internally at your company
Three Levels of Social Media engagement (and what activities/budgets are required)

The "Lemonade Stand Version"  – inexpensive, do it yourself.
The "Not So Cheap Version" – buying some tools and doing it yourself
Work with a Social Media Agency – such as Metz Media

How to Write A Social Media Plan
Social Media Crisis Planning
There is also a very useful set of books, resources, Web sites, and blogs throughout the book.
Conclusion
Not the first book on Social Media Marketing I would pick up, but definitely worth a read.  At 65 pages, it won't take long and is full of insights, resources and specific examples of situations.
FYI:   The Adam Metz blog