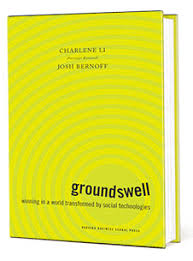 I just finished reading "Groundswell" a book by two Forrester analysts, Charlene Li and Josh Bernoff.  This is highly recommended reading about how social media is changing business and the strategies to take advantage of this trend.  The book is full of practical advice, examples, and strategies for positioning your business to succeed in this new world.
There is a lot more good content in this book than I could ever summarize on this blog, but hopefully I can interest you enough to get a copy and read it.
First, they say to start with understanding your customers.  (See this blog 7/20/09).  Groundswell begins by profiling customers according to their level of activity and engagement with social media:
Creators
Critics
Collectors
Joiners
Specatators
Inactives
Understanding where your customers fall on this spectrum can help you to understand the best ways to engage with them and what they are ready for.
From there, the process is described as P.O.S.T.
People.  What are your customers ready for?
Objectives. What do you want out of a social media interaction with your customers?
Strategy.  How do you want your customer relationships to change?
Technology.  Finally, what technologies and applications do you want to deploy to accomplish what you have set out to do?
The book goes on to offer a chapter for each of the key objectives you might have for interacting with your customers.
Listening:  to your customers for feedback on marketing and product definition.
Talking: to get your message out to customers.  Use Social Media to compliment your traditional marketing methods.
Energizing: to identify your most enthusiastic customers and empower them.
Supporting: to provide better customer support and empower your customers to support each other.
Embracing: to bring customers right into your company's business processes.
Groundswell offers detailed analysis of each objective along with examples of both successes and failures for each.  It also offers many examples of cool, new software applications and services to make you successful.
Finally, they conclude with some good advice: Start small.  Be focused.  Be flexible and opportunistic. And, critically, make sure you have the active support of top management or it just isn't happening.
Also, check the Groundswell blog.
If you are writing a social media marketing plan, this will give you the framework to build it out.